Planning a hot tub
Design and plan your hot tub
Planning
Clearly, planning is the most important part of any project, and building a hottub is no different. Before you spend a single penny on any equipment or materials you should know exactly what you want your completed hot tub to be like. How big will it be? How many and which type jets will you use? Where will you position it? Where should you locate the pump, heater and filter? Will you set it in the ground, or will it be above ground, or even a mix of the two?
We decided to make our tub approximately 2000mm (length) x 1700mm (width) x 960mm (depth)
Find a supplier
I was really impressed with the amount of useful information on one supplier website that I found, and that was Almost Heaven hot tubs. You should read the research I did before ordering any components in the e-mail conversations that I had with the owner of Almost Heaven, Art Glick. You should also look at the assembly and operation manual that they provide on their site.
Design your Plumbing System
If you are building a concrete tub, you will need to use "gunite" jets for the walls. These consist of a jet head and body, which is connected through the wall via a plastic tube which can be of varying length. Almost Heaven Hot Tubs were kind enough to allow me to reproduce some of their jet diagrams on here:
Gunite Jet Bodys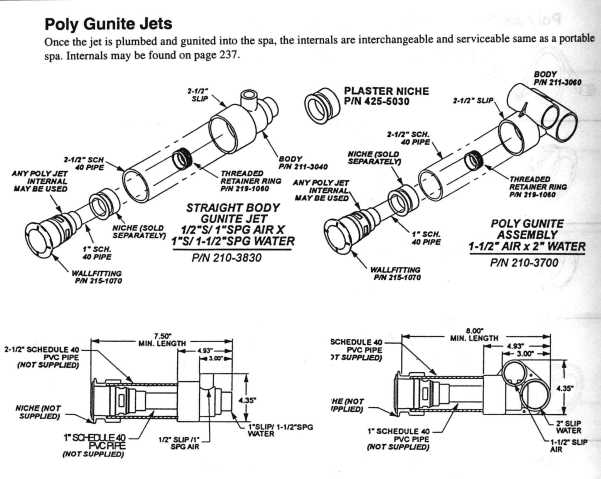 We opted for the 1 1/2" air and 2" water feed assembly.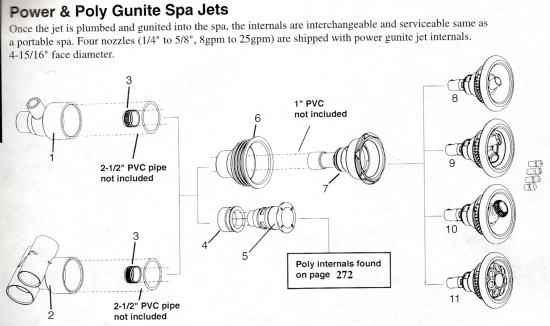 Deluxe Jet Internals

Standard Jet Internals

High Volume Wall Suction Drains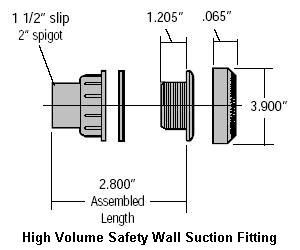 We forgot to make room for floor drains when we initially laid the base, so had to opt for wall drains instead!
Floor Drains